Ausca Int'l. Leads the Way in Oil & Grain Enterprise Standards
2022-10-26
---
October 16th was the 42nd World Food Day. On this day, the Office of China's National Food and Strategic Reserves Bureau announced the list of "2022 Grain and Oil Products Enterprise Standard Leaders". Following the review and decision of a panel of experts, Hainan Ausca International Oils and Grains Co., Ltd. (Ausca) was awarded the title of 2022 leader in product enterprise standards.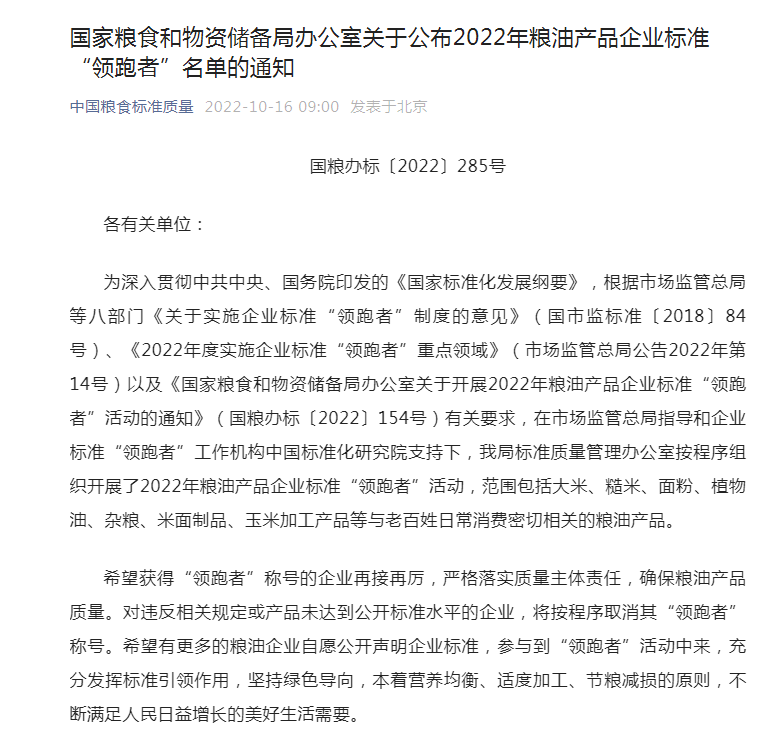 Earlier in 2022, Ausca was also dubbed a 2022 provincial-level "specialized, refined and new" SME in a list announced by the Hainan Provincial Department of Industry and Information Technology, and it was also certified as the first Authorized Economic Operator by customs in the Hainan Free Trade Port.

Established in August 2020 with a total investment of RMB 3.5 billion and an operational area of 13.8 hectares, Hainan Ausca International Oils and Grains Co., Ltd. is a comprehensive grain and oil processing enterprise integrating R&D, domestic and international production, processing, trade and marketing of edible vegetable oils, vegetable proteins and phospholipid products. Construction of Ausca's Hainan base of operations was completed swiftly. Working to the slogan of "working day and night, come rain or shine", construction workers built a digitalized and visualized intelligent factory of international standard in just 6 and a half months, setting a record for the fastest factory construction in the industry.

Ausca is located in the Yangpu Free Trade Zone Port Zone in Hainan Province, and was the first pilot enterprise in China to enjoy the processing value-added duty-free policy. The factory was designed according to the "Made in China 2025" standard and employs both domestically developed and imported advanced grain and oil processing equipment to ensure the quality of its products meets international standards. The company has achieved in-depth integration between informatization and industrialization and utilizes technologies such as big data, industrial Internet, and enterprise cloud services to realize digitization and process visualization in its factory.

Source: Hainan Ausca International Oils and Grains Co., Ltd.